Do you love cycling? Then you need this Smart Helmet!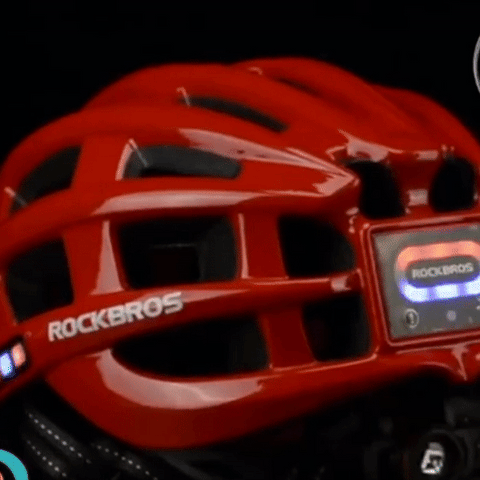 In 2018, over 500,000 cyclists were seriously injured on US roads. In Fact: Cyclists are 15 times more likely than drivers to be killed. The Number One Risk Factor is a lack of visibility.
Our Smart Helmet is equipped with extremely powerful 2000ma LEDs light in the front, on the sides, and in the back to ensure you stand out on the road.

Drivers, pedestrians, and other cyclists are going to see you coming when youre wearing a Smart Helmet. Now, you can ride in massively increased safety without the need for a bevy of accessories.

VISIBILITY AROUND-THE-CLOCK
Morning or midnight, the Smart Helmet keeps you easily visible. The bright LED lights, integrated right on the most crucial part of your safety gear make you never ride in the dangerous dark again.

Imagine a car tries to make a left turn across your path, or noses out to make a right turn into your lane, or merges directly into you, or... the possibilities are endless, but one thing is for sure: the car always wins.

The number one reason? Cars rarely see cyclists who aren't equipped with a very bright front headlight and powerful rear flasher, so you might as well consider yourself invisible to vehicles if you ride without a Smart Helmet.

SUITABLE FOR ANY WEATHER
Rain or Shine, whenever you're riding your bike, you can count on your weatherproof Smart Helmet.

RECHARGEABLE BATTERY
Charging the Smart Helmet with the included magnetic USB charging cable is as convenient as it gets. It takes about 1-2 hours to fully charge. The Battery lasts 4-5 hours in mighty mode, 9-10 hours in low mode and over 24 hours in flash mode.
MULTI-PURPOSE HELMET
The usability of the Smart Helmet goes way beyond biking. Its perfectly usable for various activities such as riding, rock climbing, skateboarding, ice skating, sledding, water sports, etc.

EASY TO USE BUT POWERFUL IN ACTION
With the 3 available modes, you have the possibility to turn on different lights and adjust the luminosity. Furthermore, you can push the headlight operating lever forward to adjust the angle and focus of the light: the light gathers. It can be adjusted up and down about 20 degrees.

FEATURES AND BENEFITS
Unisex

One size fits all

High-Quality materials

Adjustable design
?
HOW TO USE A WAX SEAL – A SIMPLE STEP-BY-STEP GUIDE
Want to learn how to create super fancy and old-fashioned wax seals? It's easy! Here's everything you need to learn how to use a wax seal.
You absolutely love wax seals, but you don't know how to make them, or what you need to do it. Fear not, wax seals are simple and we are going to take you through proper planning Ag, products, process, and perfecting to make sure your wax seals are absolute envelope show-stoppers.
HOW TO USE A WAX SEAL WITH WAX STICKS OR WAX BEADS AND A SPOON?
STEP 1: PREP
Once you light the wick on your wax stick, things will move quickly. So make sure you're ready! Get your envelope in front of you, attach your seal head to the handle, and grab your lighter.
STEP 2: LIGHT
Light your tea-light or candle.
STEP 3: MELT
Add three or four wax beads into your spoon and hold about an inch above the flame. Don't put the spoon directly in the flame because you will get a black sooty residue on the underside of the spoon, which might end up in the wax. Hold the spoon over the flame for a minute or two until the beads have all melted.
STEP 4: POUR
Pour the contents of your spoon over the lip of the envelope, getting as much onto the paper as possible. Set spoon aside (but mind that it's still hot).
STEP 5: STAMP
Check that your stamp is oriented correctly. Then push the stamp into the pool of wax, taking care to get wax excess all around the stamp.
STEP 6: REST AND REMOVE
Allow the wax to cool for 5~7 seconds or so, then gently pull the stamp away to reveal your wax seal.
DON'T FORGET TO CLEAN UP
If you want your materials to last, then you need to make sure to properly clean all of your tools. Cleaning a wax seal set can be a bit tricky, so make sure to check out how to clean a wax seal spoon.
WAX SEALS AIN'T SO HARD
This old-fashioned method of sealing envelopes might look extra fancy, but it's not hard at all to pick up. With only a few materials, you can begin sending special letters in no time. Wax seals are perfect for weddings, baby showers, Halloween parties, or plain ol' letters. You will delight your recipients when they pull your envelope out of their mailbox. Give this wax seal tutorial a try and see just how fun it can be!
Glue Gun Method
The glue-gun method is the staple of making wax seals. It gives you enough flexibility to get creative while not being overly time-consuming. For a project with the glue gun method you will need:


Wax Stamp
Sealing Wax Sticks (approx. 40 seals per 5 pack)
Low-Temperature Glue Gun (0.44" diameter)
Lunch Kit Ice pack (a zip-lock bag full of ice works as well)
Microfiber Cloth
Silicone Mat (typically found in baking/cooking aisles)
Process, step by step to beautiful wax seals
Now comes the fun part, actually making your wax seals. We recommend gathering all your supplies before you start, and clearing your workspace as sealing can be messy. To get started, chill your wax stamp on ice, and make sure you have a silicone mat to place your spoon or sealing wax gun down on.

Heat Up
Pour
Press
Wipe the head of your wax stamp off with a microfiber cloth or your palm, then press into sealing wax. Leave for 5 - 10 seconds then gently peel your stamp away. If it sticks, allow more time to cool. If there is a lot of sticking, try letting your sealing wax cool a bit before stamping.