MAKE YOUR CAT LOVES COMBING AGAIN!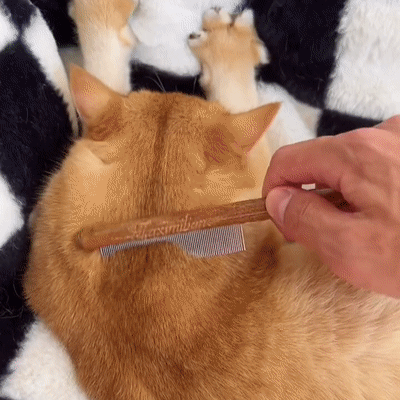 Our Wooden Cat Comb allows you to effectively & painlessly remove cats loose hair and the fine dust thats hidden within!
ROUNDED TEETH DESIGN
Designed to make cat grooming easier. The round needle ends are gentle on the skin and it penetrates the undercoat without hurting your cat. No more nipping or snarling!
PERFECT FOR LONG AND SHORT HAIRED
Unlike the average cat combs for grooming, this one can be used to care for long-haired or short-haired breeds.
PREMIUM MATERIAL
Made of high-quality stainless steel which is durable, corrosion resistant and does not fade, helps to avoid static electricity during combing too. The handle is made of wood for a comfortable grip.
TRAPS HAIR EASILY
With the gab of each tooth being less than 1 millimeter, it makes trapping loose hair from your cat, especially short hair, highly effective. And once youre done, simply grab the hair and remove it from the comb.
When you do not have a PayPal account and want to pay with a credit card, you can follow this process:
Step 1. At the last step of checkout, select PayPal as the payment method for the complete order.
Step 2. On the PayPal payment page that pops up, find the Pay with Credit or Debit Card button and click to enter the next step.
Step 3. Then you will see the credit card payment page, after completing the requirements, see the bottom of the page, click Pay Now to complete the payment.