The domino train lays out all the blocks perfectly for your child!
Your kids will have a lot of fun ! Placing the dominoes has never been so easy and fun. Fill the tube on the colorful tank engine and drive it around to easily place the dominoes at just the right distance. This game will give kids hours of fun! Delivery includes 60 dominoes.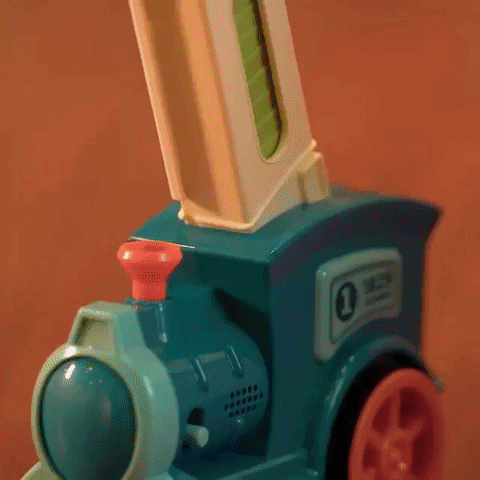 Benefits
Unique automatic laying feature - fill the plastic blocks and start the train to lay your domino game which adds more drama to the domino game.
Endless domino racing fun - build your desired domino racing track with 60 pieces of colorful plastic block. Super fun for your kids to play. Line them up then push one and watch the chain effect of the dominoes topple like a race.
Stimulate stem development - designed to engage children in their early stem development, it encourages children's spatial thinking, color recognition and keeps your little engineers coming back for more fun.
Safe to play with - these plastic block domino pieces are finished with non-toxic paints that are safe and won't fade. The dominoes are made of high quality plastic material with smooth edges to ensure the safety of children while playing.
Perfect gift for boys and girls - this is a fun toy, especially if you and your grandkids are domino racing fans, but it can also be used as christmas gifts, halloween gifts, children's birthday surprises and jigsaw puzzles, giving kids a fun time of entertainment
Specifications
Package include
When you do not have a PayPal account and want to pay with a credit card, you can follow this process:
Step 1. At the last step of checkout, select PayPal as the payment method for the complete order.
Step 2. On the PayPal payment page that pops up, find the Pay with Credit or Debit Card button and click to enter the next step.
Step 3. Then you will see the credit card payment page, after completing the requirements, see the bottom of the page, click Pay Now to complete the payment.