?INVITE THE BIRDS TO COME AND PLAY IN YOUR GARDEN!
This?Solar Powered Fountain?kit?includes an affordable and efficient pump that requires no electricity or batteries, as it runs on solar power alone!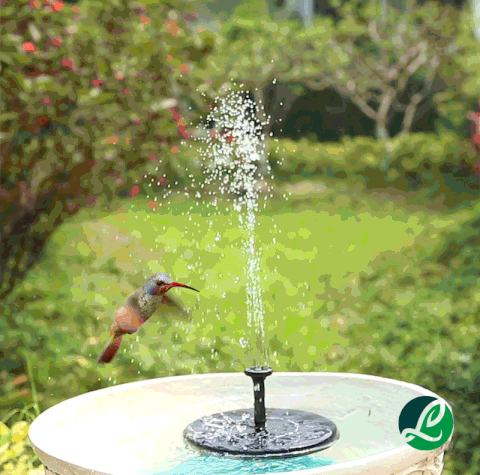 This clever floating solar pump can turn any pool of standing water into a fountain.
Give birds a place to drink and wash, not only can you enjoy the gentle trickle and soft lighting of this water feature, but birds can too.
?Why you'll love SensoFountain:
It's Solar Powered?- Solar powered water fountain, which allows the pump to work continuously even in weak sunlight.
It's Easy to Install?- Simply place the solar fountain pump on the water and under the sun and it will run automatically within 3 seconds. No tool required.
Comes with 6 Different Nozzle Types?- Easily exchange the nozzles with different spray height or spray shape requirements.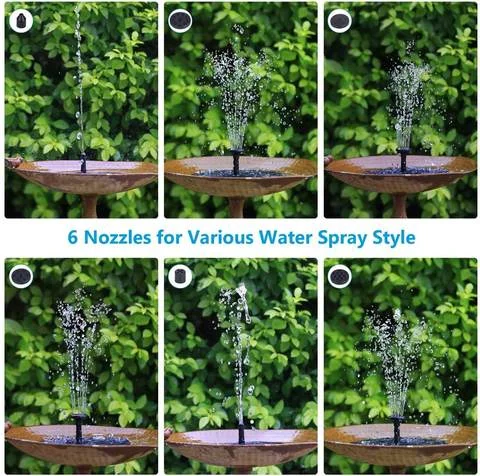 -Multiple Use?- Suitable for birdbaths, small ponds, swimming pools, aquariums, garden decoration, and circulating oxygen water to bring you happy and interesting garden life.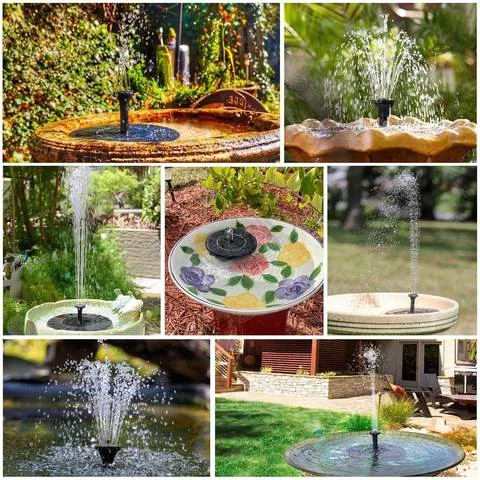 How to use it;
1. Assemble the product according to the sketch map.
2. Put it on the water and make sure that the solar panel is not sheltered from the sun. Then it will work normally as soon after sunlight contact.



Solar Powered Panel: 1.4W solar panels can ensure normal operation.

Working life: more than 10000 hours
Package Includes:
1 x Solar Water Pump
4 x Nozzles
1 x Nozzle Base
1 x Connection Head
1 x Outlet
1 x English User Manual
?F.A.Q
How to attract more birds with moving water
Water is essential for?birds?and while a simple bird bath?can?provide space for drinking and preening, more elaborate designs like bird bath?fountains?have many benefits and?can?attract more?birds?to any birder's yard.
Should I put rocks in my bird bath?
Good Footing. Pea?gravel?or large stones in the bottom of you?bath?basin also serve to give bathing?birds?better footing while using the?bath. This is necessary to make the?birds?feel less vulnerable while they?bathe.
How to attract birds to my water fountain?
Make sure to follow these steps There are several reasons that?birds?won't?come?to a?birdbath: The water in the?bird bath?isn't too deep. The?bird bath?isn't too slippery. The?bird bath?is too far from cover
?How deep should the water be in a bird bath?
Be sure the?water?is only about an inch to an inch-and-a-half (3.8 cm)?deep. 3. Toss in a few large pebbles or a flat stone. These will give the?birds?confidence to enter the?water?because it will help them judge how?deep?the?water?is