Professional Gps Tracker Detector is an effective RF signal & Magnetic Field Detector that helps you detect the various hidden devices in the surrounding environment. such as hidden cameras, GPS trackers, and eavesdropping devices. Imported ultra-high sensitivity chips and exquisitely designed to protect your privacy.
★ Have you ever thought that your privacy has been leaked?
From Spy Pens that record live video to GPS trackers that attach to the bottom of your car, there is no shortage of bugs that can be used to track you. Most of them are designed to be discreet. Some are so compact that they can be hidden in nooks and crannies that you'd never think to check. Others are designed to look like harmless odds and end you'd already have to lay around your home. The variety between bugs is so vast that you'd never be able to visually identify them with complete certainty. But this doesn't mean that they can't be found.
★ What is Detector?
Electronic sweeper for tracking devices, listening device, and hidden camera to detect hidden device more quickly more accurately. Magnetic fields and electromagnetic waves can be detected simultaneously without switching modes repeatedly. Help you find accurate wireless cameras, bugs, and GPS trackers hidden in your home and car.
★ How does It work?
The bug sweeper can accurately detect various GPS locators, trackers, eavesdroppers, 1.2G~5.8G wireless camera, 2G/3G/4G signal from SIM card bugs,s, and other equipment. This camera detector bug detector spy camera finder protects your privacy at all times.
★ Best Places to Use the Detector 
The Professional Gps Tracker Detector can use for home, office, hotel, motel, car, bathroom, dressing room, business negotiation, confidential session, entertainment venues, or as a daily used scanner to prevent being photographed, shooting videos, and monitor magnetic field signal.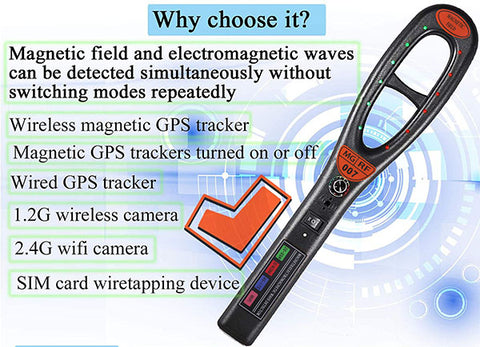 ★ SPECIFICATIONS
| | |
| --- | --- |
| Magnetic field detection range | 50mm-300mm |
| RF signal detection range | 15-25㎡ |
| Frequency Range | 1MHz-2.8GHz |
| Detection Range | > 72 dB |
| Detection Sensitivity | < 0.03 mV (main band) |
| Battery Capacity | 1200mAh |
| Working Time | 20-35h |
★ What's Package Include:
1 x Detector Host

1 x Lighting and Magnetic Detection Hose

1 x USB Charging Cable

1 x User Manual
Protect your privacy everywhere, in any personal or business situation, with the portability of the Personal Multi-Bug Detector