Let's hear from our satisfied customer who tried out the?Golden Lure? Pheromone Men's Perfume
The Golden Lure? Pheromone Men Perfume is formulated with the most potent pheromones and extracts available that can help improve your relationships and chemistry with women. It enhances your pheromone production naturally which elevates your attractiveness and appeal while helping you smell and feel good.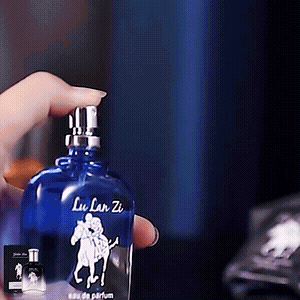 Backed by Scientific Studies
Scientists in osmology have determined that both men and women are attracted to each other through pheromones, thischemical stimulates sexual attraction, desire, hormone levels, and even fertility when released.?And through studies and testing, Pheromone perfumes have been proven to elevate pheromone levels. This makes it easier to attract the opposite gender and develop chemistry quickly.
What are Pheromones?
Pheromones are similar to hormones but work outside of the body. They trigger and activate sensual arousal in other individuals. It serves as a sensual mode of communication between humans through the use of their natural odors. The body secretes these odors out in the open and they influence other individuals' behaviors.?

Certain body scents are directly connected to the human attraction. The ability to smell pheromones activates our olfactory system which helps us to subconsciously recognize a potential compatible mate for reproduction. This is because?of our response to a specific individual's?pheromones. It can signal something more positive than the odor of someone else. And that's how pheromones help you get attracted to someone and become more attractive to someone.
Pheromone Elevating Perfume
The formulation of the perfume makes it that when it touches your skin, it elevates and strengthens the scent and potency of your pheromones. Once the contact and connection?are made between your pheromones and the perfume, you will emit a stronger positive odor.?The molecular fusion?of your pheromones and the perfume?will help you attract, seduce, and arouse women more effectively.
Why?Does Golden Lure? Pheromone Men's Perfume Work So Well?
Our perfume is designed to?enhance?the attractive genetic markers that can be found in the pheromones.?The increased potency of your natural pheromones?from the Golden Lure? Pheromone Men Perfume will grab the attention of any woman passing by you. One smell of your scent will give them sensual cues subconsciously. This makes them want to get close to you and?experience you completely. And that makes any woman interested in you with just a whiff of your pheromones combined with our perfume.
Why Makes Golden Lure? Pheromone Men's Perfume So Good?
???Raises Natural Pheromone Production
?? Improves Attractiveness and Appeal
?? Provides Instant Chemistry and Attracts More Women
?? Boosts Seductiveness with Seductive Scent
?? Inspires Stronger Affection and Arousal from?Women
?? Gest Your More Attention with the Ladies
?? Elevates Confidence and Romance
?? Extra Strong Formulation with Potent Scent
Here are more of our satisfied customers who loved our perfume:
Specifications
Net Content: 50ml
Fragrance Descriptors: Masculine, Bergamot Myrtle, Coffee Hazelnut, Dark Chocolate, Leather Cedar
Package Includes
1x Box of?Golden Lure? Pheromone Men Perfume
HOW TO USE A WAX SEAL – A SIMPLE STEP-BY-STEP GUIDE
Want to learn how to create super fancy and old-fashioned wax seals? It's easy! Here's everything you need to learn how to use a wax seal.
You absolutely love wax seals, but you don't know how to make them, or what you need to do it. Fear not, wax seals are simple and we are going to take you through proper planning Ag, products, process, and perfecting to make sure your wax seals are absolute envelope show-stoppers.
HOW TO USE A WAX SEAL WITH WAX STICKS OR WAX BEADS AND A SPOON?
STEP 1: PREP
Once you light the wick on your wax stick, things will move quickly. So make sure you're ready! Get your envelope in front of you, attach your seal head to the handle, and grab your lighter.
STEP 2: LIGHT
Light your tea-light or candle.
STEP 3: MELT
Add three or four wax beads into your spoon and hold about an inch above the flame. Don't put the spoon directly in the flame because you will get a black sooty residue on the underside of the spoon, which might end up in the wax. Hold the spoon over the flame for a minute or two until the beads have all melted.
STEP 4: POUR
Pour the contents of your spoon over the lip of the envelope, getting as much onto the paper as possible. Set spoon aside (but mind that it's still hot).
STEP 5: STAMP
Check that your stamp is oriented correctly. Then push the stamp into the pool of wax, taking care to get wax excess all around the stamp.
STEP 6: REST AND REMOVE
Allow the wax to cool for 5~7 seconds or so, then gently pull the stamp away to reveal your wax seal.
DON'T FORGET TO CLEAN UP
If you want your materials to last, then you need to make sure to properly clean all of your tools. Cleaning a wax seal set can be a bit tricky, so make sure to check out how to clean a wax seal spoon.
WAX SEALS AIN'T SO HARD
This old-fashioned method of sealing envelopes might look extra fancy, but it's not hard at all to pick up. With only a few materials, you can begin sending special letters in no time. Wax seals are perfect for weddings, baby showers, Halloween parties, or plain ol' letters. You will delight your recipients when they pull your envelope out of their mailbox. Give this wax seal tutorial a try and see just how fun it can be!
Glue Gun Method
The glue-gun method is the staple of making wax seals. It gives you enough flexibility to get creative while not being overly time-consuming. For a project with the glue gun method you will need:


Wax Stamp
Sealing Wax Sticks (approx. 40 seals per 5 pack)
Low-Temperature Glue Gun (0.44" diameter)
Lunch Kit Ice pack (a zip-lock bag full of ice works as well)
Microfiber Cloth
Silicone Mat (typically found in baking/cooking aisles)
Process, step by step to beautiful wax seals
Now comes the fun part, actually making your wax seals. We recommend gathering all your supplies before you start, and clearing your workspace as sealing can be messy. To get started, chill your wax stamp on ice, and make sure you have a silicone mat to place your spoon or sealing wax gun down on.

Heat Up
Pour
Press
Wipe the head of your wax stamp off with a microfiber cloth or your palm, then press into sealing wax. Leave for 5 - 10 seconds then gently peel your stamp away. If it sticks, allow more time to cool. If there is a lot of sticking, try letting your sealing wax cool a bit before stamping.