Low Noise Pet Hair Clipper promises you great pet shaving experience!
Why do you shave your pet?
The need to treat skin diseases. Shaved hair is easy to take medicine.
The hair of the cat and the dog is too messy, and the owner shaves his hair for easy care.
Because the summer is too hot, shaving the cats and dogs can cool down
The hair that grows after shaving is thicker and more beautiful.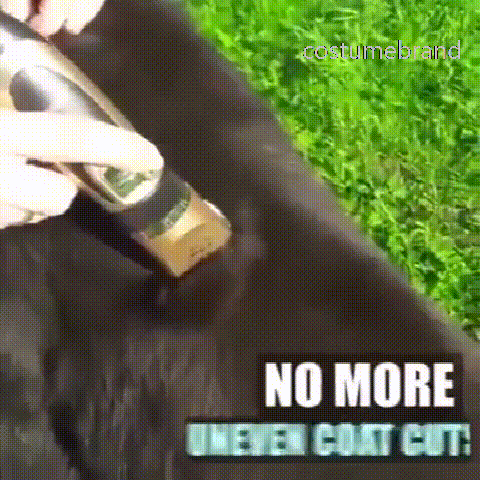 Heavy-duty gear for proper powerful cut, horse clipper with stable and steady control.
Titanium acute-angle blade combining with the ceramic movable blade for smooth and efficient cutting for cats dogs rabbits horse……
New user-friendly, we provide 3-6-9-12mm level limiting combs with the package. With limiting comb you can safely trim your pet even if you've never done it before. Mobile titanium blade is adjustable ranging from 2mm- 0.9mm for slight adjustment on hair length.
Precision motor, low vibration, and ultra quiet design. Working noise lower than 60 DB, will not scare your pet.
Cordless design for easy use. The pet grooming kit is equipped with a charger. Charging for five hours, it can sustain uses of 70 minutes.
When you do not have a PayPal account and want to pay with a credit card, you can follow this process:
Step 1. At the last step of checkout, select PayPal as the payment method for the complete order.
Step 2. On the PayPal payment page that pops up, find the Pay with Credit or Debit Card button and click to enter the next step.
Step 3. Then you will see the credit card payment page, after completing the requirements, see the bottom of the page, click Pay Now to complete the payment.