SLEEP WATCHING YOUR FAVORITE SHOWS!
Snuggle up in a blanket and watch your favorite show, movie or series on a screen as big as your TV! Make movie nights great again and enjoy time spent with your loved ones !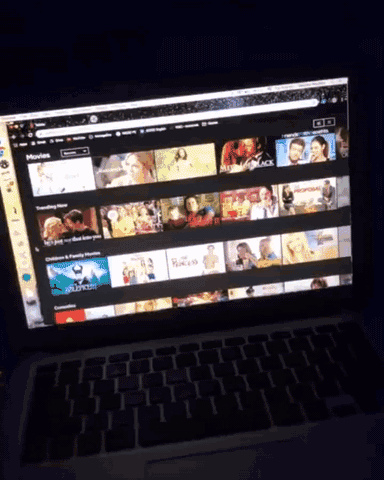 CONNECTS TO ALL YOUR DEVICES!
The Porto Projector supports iPhone's, iPad's, iMac's, Android devices, laptops, PCs, game consoles, amazon fire sticks, TVs, and more!
You will need an HDMI cable, you can add an HDMI cable to your order once you click add to cart.
WATCH YOUR SHOWS IN THE SAME QUALITY AS TV!
Experience high-end LED display quality (1080p). There is no loss in quality for up to 10m. You can project both inside and outside! You can adjust the display from 20" to 120".
FEATURES
 Bright and Vibrant images: accurate colors and rich contrast with deep blacks and bright whites, even in rooms which aren't totally black.
 Compact & Portable : 5 x 3.4 x 1.8 inches and 19.6oz (12.7 x 8.6 x 4.6 cm and 560g )
 Projection Distance : 0.8 - 2 m (for best performance)
 NeverDieLamp: 30,000 hours of lamp life
 Built-in-Speaker also features a special port to use your own external speaker
 Works with any device : HDMI, USB, AV cord, 3.5mm jack, Micro SD and TF card connections.
 Outdoor use : can be powered from just a power bank. Perfect for camping, business meeting and travels
 Harmless LED light : The American Bridgelux LED light is harmless for the eye and has a very small power consumption.
FREQUENTLY ASKED QUESTIONS
Q: Can I connect my phone? 
A: Yes, the Porto Projector supports all iOS and Android devices. You will need an HDMI cable, you can add an HDMI cable to your order once you complete your purchase!
Q: Can I watch Netflix/YouTube? 
A: Yes, when connected to your laptop or any other device it mirrors exactly what's on the screen, without delay.
Q: Does it have a speaker? 
A: The projector has a built-in speaker and you can also connect an external speaker or plug-in your headphones!
Q: Does it run on battery or have to be plugged in? 
A: It doesn't support batteries. Your projector comes with a 4m long power adaptor and you can also use a power bank to connect it.
Q: Is the projector noisy?
A: No, the Porto Projector is only 15 decibels loud, which is quieter than a whisper.
YOUR PACKAGE INCLUDES 
1x The Original Porto Projector
1x Power Adapter 
1x AV cable 
1x Remote Control
1x User Manual
What People Are Saying
From  Josefina Lynch: The picture is relatively bright and clear in a room without any lamps on, and it's so portable and easy to use!!
From 
Caroline Von : 
The weight and size are really great for outdoor.