Quality facial materials and filtration systems that can withstand high temperatures, shocks, chemicals, or other hazardous splashes for safe use in laboratories and other general medical areas.?Suitable for industry, forestry, welding, soldering, home renovation, and any other job. Now the upgraded version 2.0 can also be used for medical protection. Also ideal for sports, such as motorcycling, cycling, running, walking, boating, skiing, etc.
FULL FACE MASK:?Large area from the eyebrows to the chin to protect against foreign aggression, Full Facial Protection from droplets, saliva, splash, oil, and dust.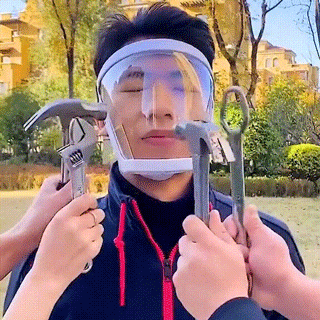 Anti-fog and waterproof comprehensive protection:?Serves as a safety shield for men and women to guard and protect their face and eyes and has a designated chin guard. Its versatile for a variety of uses in industrial and home settings and is lightweight and comfortable.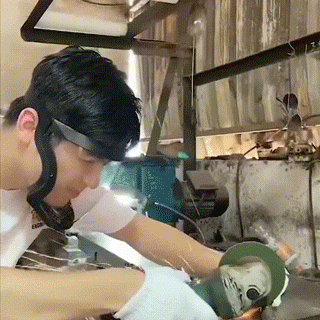 SUPER CLEAR SIGHT:?The oversized Anti-fog Polycarbonate lens is high-definition and transparent, and the curve naturally fits the contours of the face, so there is no need to worry about affecting the line of sight.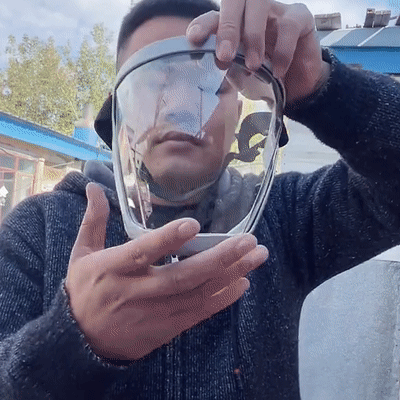 Suitable for almost everyone:?Many people worry about not being able to use our face shields because of face shape and glasses. But dont worry, you can also use this mask with different faces. The following shows the effect of different people wearing it.
Safety Application:?100% dielectric (no metal parts); Comply with?ANSI Z87 and CSA Z94.3?standards. According to the CDC, there are 2000 eye injuries in the U.S. workplace daily.?High-quality face material?and?filtration system?that can withstand?high temperatures, shocks, chemicals,?or other?hazardous splashes.?In addition to hazardous work, they can be used?safely in laboratories and other general medical areas.
Breathe Freely:?CA detachable air vent at the chin allows you to?breathe freely and keep dust out?while you work. Detachable design, easy to change the filter cloth, always ensures free breathing.
Safety protection C?5 Layers filter system effectively keeps away from a range of?airborne contaminants?Help decrease the risk of inhaling:?dust, Pollution, Ash, Pollen, Gardening, Crafts, Vehicle Exhaust, debris, smog, haze,?and much more.
Activated Carbon PM2.5 Filters:?100%?brand new and high quality, Just put it in the filter opening.?When a film or sticky sediment stains emerge, please replace the filter
Clear and Anti-fog:?Face shields provide?super clear visibility?and have?superior optics?that let in the maximum amount of light, while the?anti-fogging material?resists fog under extended use.

Reusable Safety Goggle:?CThis is simple and reliable in design, detachable and reusable, and is a practical and portable protection solution. After each use, the sun visor can be cleaned with soap and water.

For Protection & Work:?CSuitable for?industry, forestry, welding, soldering, home renovation,?and any other job.?Now the upgraded version 2.0 can also be used for medical protection.?Also ideal for?sports, such as motorcycling, cycling, running, walking, boating, skiing, etc.?In addition, we have added a variety of color choices of blue, gray, red, and pink, which are suitable for different peoples needs