Do you know that snoring might be bad for more than just keeping your partner awake at night? Snoring, which lowers blood oxygen levels and increases your risk of heart disease, stroke, hypertension, and other ailments, is one of the main symptoms of sleep apnea. But each of the widely used sleep apnea therapies has disadvantages of its own. In this circumstance, our Smart Anti-Snoring snore stopper Device can really improve your quality of sleep and enable easier breathing.

The device accurately and automatically detects snoring using a variety of frequencies and highly accurate sensors. The vibration plus massages the hypoglossal nerve and mouth muscles to tighten the muscles and change the breathing rhythm for smoother breathing. Our anti-snoring gadget is made of high-quality ABS materials, which are highly durable and guarantee that using it won't bother your skin. By doing this, you can be sure that your experience will be as comfortable as possible.

Why This Product Is Right For You
Rated as the coziest and most successful snoring and OSA remedy with a 96% success rate.
95 percent of bed partners report No Snoring Stop snoring for both you and your spouse.
Immediately stop snoring: Designed to successfully stop snoring so you can get a good night's rest every night.
Most modern snoring apparatus on the market: Power to stop snoring. Effective, cozy, lightweight, and portable

FEATURES:
RECHARGEABLE


Up to 35 hours of battery life is provided, and a USB data cable is included so you can charge it whenever it's convenient for you.

EASY TO USE


There is only one on/off button, so you can simply switch it on to get it working without having to do anything else while using it.

ADVANCED MATERIAL


Composed of sturdy, high-quality ABS materials, so you may use it without worrying about it irritating your skin.
SPECIFICATIONS:
Weight:13.7g
Rated voltage:3.7V
Material:ABS+304 stainless steel+elastic band
Size:50 * 20 * 12mm
Color:Black
Gear position:6th gear adjustment


PACKAGE CONTENT:

1*Anti Snoring Device
1*USB cable
2*Ear Strap
1*User Manual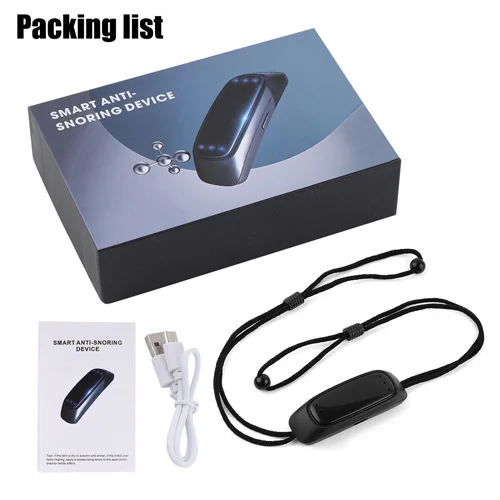 When you do not have a PayPal account and want to pay with a credit card, you can follow this process:
Step 1. At the last step of checkout, select PayPal as the payment method for the complete order.
Step 2. On the PayPal payment page that pops up, find the Pay with Credit or Debit Card button and click to enter the next step.
Step 3. Then you will see the credit card payment page, after completing the requirements, see the bottom of the page, click Pay Now to complete the payment.