This portable?dog hair remover vacuum is intelligently designed with very gentle yet strong suction power for a quick and mess-free grooming experience for your pets.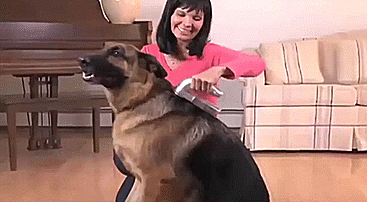 Unlike traditional pet hair remover tools that come with painful wire bristles. Our dog Vacuum Hair Remover is an innovative grooming tool that features massage nubs and gentle suction.
IT effortlessly removes shedding, tangles, knots, dander, and dirt without hurting your fur baby, which makes it perfect for both short and long-haired pets.
Comfortable Grooming at Home:?Take the grooming matter into your hands. Using this dog and cat hair remover, you can easily remove your cat/dogs hair on your own at home while they sit comfortably with you.
Its massaging vacuum with an ultra-quiet motor sucks up the finest dust, dirt, pet hair, and dander directly from the pet into the canister. Hello, healthy and shiny coat!?
Safe and Easy to Use:?Combining the functionality of a combing brush and a vacuum, this pet hair vacuum is intelligently designed, keeping your pets comfort and safety as the priority.
Switch the device on and start combing it through the hair to get started. The rotating motor will collect all the loose hair into the canister while removing any tangles or knots.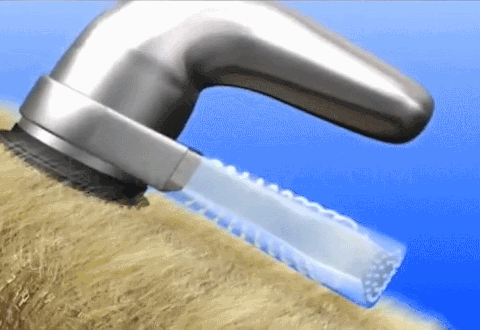 Versatile and Cost Efficient:?No more spending hundreds of dollars on grooming sessions or investing in a whole range of products as this hair remover is perfect for grooming your pet and keeping the fur off your home.
This cordless pet vacuum cleaner features an innovative cordless design with two different head attachments to meet your everyday cleaning needs.
Using the upholstery brush, you can effortlessly remove pet hair and debris from your furniture, car interiors, bed, clothing, carpets, and hard-to-reach areas of your home.
Portable and Battery Operated:?Our Pet Vacuum Hair Remover is extremely lightweight and compact, making it perfect for carrying on the go.
Since it is cordless and battery-powered, you wont have to run after your pets to make them sit in a specific spot near the power outlet.
Whether traveling or going on a trip with your pet, you can groom them anytime, anywhere with this device.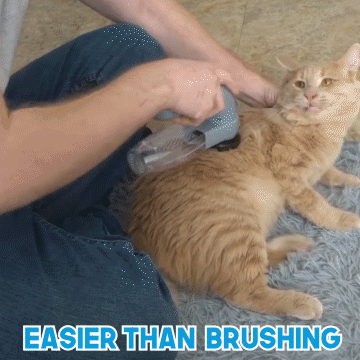 Ergonomic Design and Premium Quality Material:?Made of high-grade materials. Pet Vacuum Hair Remover is sturdy, durable, and built to last for years to come. With a cordless design and comfortable grip, it comfortably fits into your hand for easy handling during use.
HOW TO USE A WAX SEAL – A SIMPLE STEP-BY-STEP GUIDE
Want to learn how to create super fancy and old-fashioned wax seals? It's easy! Here's everything you need to learn how to use a wax seal.
You absolutely love wax seals, but you don't know how to make them, or what you need to do it. Fear not, wax seals are simple and we are going to take you through proper planning Ag, products, process, and perfecting to make sure your wax seals are absolute envelope show-stoppers.
HOW TO USE A WAX SEAL WITH WAX STICKS OR WAX BEADS AND A SPOON?
STEP 1: PREP
Once you light the wick on your wax stick, things will move quickly. So make sure you're ready! Get your envelope in front of you, attach your seal head to the handle, and grab your lighter.
STEP 2: LIGHT
Light your tea-light or candle.
STEP 3: MELT
Add three or four wax beads into your spoon and hold about an inch above the flame. Don't put the spoon directly in the flame because you will get a black sooty residue on the underside of the spoon, which might end up in the wax. Hold the spoon over the flame for a minute or two until the beads have all melted.
STEP 4: POUR
Pour the contents of your spoon over the lip of the envelope, getting as much onto the paper as possible. Set spoon aside (but mind that it's still hot).
STEP 5: STAMP
Check that your stamp is oriented correctly. Then push the stamp into the pool of wax, taking care to get wax excess all around the stamp.
STEP 6: REST AND REMOVE
Allow the wax to cool for 5~7 seconds or so, then gently pull the stamp away to reveal your wax seal.
DON'T FORGET TO CLEAN UP
If you want your materials to last, then you need to make sure to properly clean all of your tools. Cleaning a wax seal set can be a bit tricky, so make sure to check out how to clean a wax seal spoon.
WAX SEALS AIN'T SO HARD
This old-fashioned method of sealing envelopes might look extra fancy, but it's not hard at all to pick up. With only a few materials, you can begin sending special letters in no time. Wax seals are perfect for weddings, baby showers, Halloween parties, or plain ol' letters. You will delight your recipients when they pull your envelope out of their mailbox. Give this wax seal tutorial a try and see just how fun it can be!
Glue Gun Method
The glue-gun method is the staple of making wax seals. It gives you enough flexibility to get creative while not being overly time-consuming. For a project with the glue gun method you will need:


Wax Stamp
Sealing Wax Sticks (approx. 40 seals per 5 pack)
Low-Temperature Glue Gun (0.44" diameter)
Lunch Kit Ice pack (a zip-lock bag full of ice works as well)
Microfiber Cloth
Silicone Mat (typically found in baking/cooking aisles)
Process, step by step to beautiful wax seals
Now comes the fun part, actually making your wax seals. We recommend gathering all your supplies before you start, and clearing your workspace as sealing can be messy. To get started, chill your wax stamp on ice, and make sure you have a silicone mat to place your spoon or sealing wax gun down on.

Heat Up
Pour
Press
Wipe the head of your wax stamp off with a microfiber cloth or your palm, then press into sealing wax. Leave for 5 - 10 seconds then gently peel your stamp away. If it sticks, allow more time to cool. If there is a lot of sticking, try letting your sealing wax cool a bit before stamping.