"So

supportive and comfortable! I can walk for hours everyday no problem!"
Spring season means carefree footwear, but for those who suffer from painful feet or even conditions like Morton's neuroma and bursitis, plantar fasciitis, bunions, high arches or any painful foot conditions, it can be tricky to find shoes that will give all-day comfort.
Made with high-quality material, our Comfort Wedge Sandals are the perfect choice for all your everyday occasion!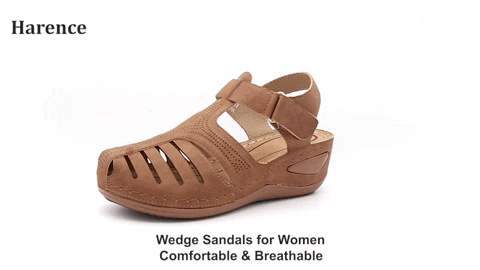 "

These are the most comfortable sandals I own & I have many. I'm on my feet all day and have to change into different shoes at least once a day. Not so with these sandals - last all day and they're still comfortable at the end of the day. Fit perfectly"
鉁 PERFECT FOR IMPERFECT FEET: provides comfort for people with Morton's neuroma and bursitis, plantar fasciitis, bunions, high arches or any painful foot conditions
鉁 GREAT ARCH SUPPORT: Our orthopedic design gives you great arch support for unmatched comfort, allowing you to walk comfortably for hours at a time.
鉁 COMFORTABLE SUPPORT: Our sandals have a soft and smooth sole paired with a secure design so you walk in comfort without foot pain.
鉁 ORTHOPAEDIC DESIGN: With great support around all around,our is perfect for walkers, runners, cyclists and all alike!
鉁 HIGH QUALITY: Made from premium PU Leather and does not contain BPA or any other toxic compounds so it is guaranteed safe to use and non-irritable on skin.
鉁 FIT GUARANTEE: If your sandals are not a correct fit, simply contact our helpful customer support team to get a free replacement.
*Please measure your feet instead of your shoes to ensure accurate sizing, we do not accept returns for false measurement
** if you have wide feet, please order one size up for maximum comfort
Available Online Only. FREE Worldwide Shipping Included! Shipping times as below.
7-12 business days for customers in the USA, Australia, and the UK.

7-15 business days for customers in Canada and the rest of the world.
To order, press 'Add To Cart at the top of this page and safely checkout.
You'll be on cloud nine in these sandals, as the memory foam insole supports you with every step.
The cushion-like, double-padded memory foam insole is very soft. And the sandal is easy to combine. Don't worry about that.
Great shock absorption soles: Make your walk more steadily & stand for hours, without any strain or imbalance.
Reduces Pain: Eliminate the pain caused by flat feet, poor walking posture, and plantar fasciitis.
Posture Correction: Straighten your hips, correct kick knees, and muscle imbalance by adjusting the structure of your feet.
Comfort above all else is king, and when blended with trendy, kinky style, the making of a superstar fashionista becomes complete.The blueprint of the summer themed Lace-up Hook&Loop Open Toe Sandal combines all round comfort with trendy and artistic design to put you at the fore of current fashion trends.
SPECIFICATION:
Brand:Cilool
Brand:Cilool

Shoe Width: Medium

Sole Hardness: Soft

Season: spring, summer, and fall

Occasion: Casual, Travel, Daily

Features: Non-slip, Antibacterial, Deodorization, Quick dry
HOW TO USE A WAX SEAL – A SIMPLE STEP-BY-STEP GUIDE
Want to learn how to create super fancy and old-fashioned wax seals? It's easy! Here's everything you need to learn how to use a wax seal.
You absolutely love wax seals, but you don't know how to make them, or what you need to do it. Fear not, wax seals are simple and we are going to take you through proper planning Ag, products, process, and perfecting to make sure your wax seals are absolute envelope show-stoppers.
HOW TO USE A WAX SEAL WITH WAX STICKS OR WAX BEADS AND A SPOON?
STEP 1: PREP
Once you light the wick on your wax stick, things will move quickly. So make sure you're ready! Get your envelope in front of you, attach your seal head to the handle, and grab your lighter.
STEP 2: LIGHT
Light your tea-light or candle.
STEP 3: MELT
Add three or four wax beads into your spoon and hold about an inch above the flame. Don't put the spoon directly in the flame because you will get a black sooty residue on the underside of the spoon, which might end up in the wax. Hold the spoon over the flame for a minute or two until the beads have all melted.
STEP 4: POUR
Pour the contents of your spoon over the lip of the envelope, getting as much onto the paper as possible. Set spoon aside (but mind that it's still hot).
STEP 5: STAMP
Check that your stamp is oriented correctly. Then push the stamp into the pool of wax, taking care to get wax excess all around the stamp.
STEP 6: REST AND REMOVE
Allow the wax to cool for 5~7 seconds or so, then gently pull the stamp away to reveal your wax seal.
DON'T FORGET TO CLEAN UP
If you want your materials to last, then you need to make sure to properly clean all of your tools. Cleaning a wax seal set can be a bit tricky, so make sure to check out how to clean a wax seal spoon.
WAX SEALS AIN'T SO HARD
This old-fashioned method of sealing envelopes might look extra fancy, but it's not hard at all to pick up. With only a few materials, you can begin sending special letters in no time. Wax seals are perfect for weddings, baby showers, Halloween parties, or plain ol' letters. You will delight your recipients when they pull your envelope out of their mailbox. Give this wax seal tutorial a try and see just how fun it can be!
Glue Gun Method
The glue-gun method is the staple of making wax seals. It gives you enough flexibility to get creative while not being overly time-consuming. For a project with the glue gun method you will need:


Wax Stamp
Sealing Wax Sticks (approx. 40 seals per 5 pack)
Low-Temperature Glue Gun (0.44" diameter)
Lunch Kit Ice pack (a zip-lock bag full of ice works as well)
Microfiber Cloth
Silicone Mat (typically found in baking/cooking aisles)
Process, step by step to beautiful wax seals
Now comes the fun part, actually making your wax seals. We recommend gathering all your supplies before you start, and clearing your workspace as sealing can be messy. To get started, chill your wax stamp on ice, and make sure you have a silicone mat to place your spoon or sealing wax gun down on.

Heat Up
Pour
Press
Wipe the head of your wax stamp off with a microfiber cloth or your palm, then press into sealing wax. Leave for 5 - 10 seconds then gently peel your stamp away. If it sticks, allow more time to cool. If there is a lot of sticking, try letting your sealing wax cool a bit before stamping.