Screen doors are often a feature in homes and are often used as access from the family room to the backyard. People often want to open a door to let in natural light and fresh air, but have to close the door because small animals can easily get into the home. Magnetic screen doors are a great option for those who want fresh air and natural light without small critters.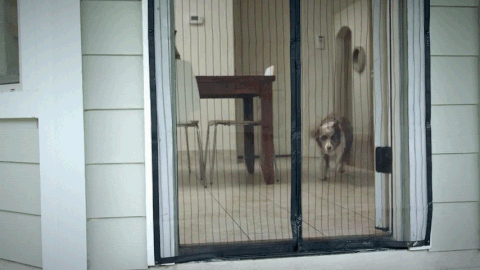 High-density Fiberglass Mesh
Heavy duty fiberglass screen mesh, longer service life, fireproof, chemical corrosion resistance, keep a good shape, washable, high tensile strength.


The magnetic screen door is made of thickened 18 x 18 fiberglass mesh, more durable than previous nylon mesh, and a good solution for blocking annoying creatures sneaking into your room.


Magnetic Screen Door Features

Available in 55 standard sizes and custom sizes.

Instantly opens, magically closes

Easy for children & pets to walk through while blocking off any flies and insects from entering the house.

Fresh air in, sunshine in

Full frame hook&loop strip installation

Wrapped with thickened webbing on four sides, more sturdy and not easy to break
Anti-tearing and reinforced in the top middle

Thicker thread & close stitch length

Durable & strong fiberglass mesh

Each magnetic flyscreen door is installed in minutes with no tradesman tools required.

Fits single doors, French doors, sliding doors, caravan's, RV's and more

Durable, easy to clean

Folds up for easy storage

Additional information
Door Size (WxH) in.
28" x 80", 30" x 78", 30" x 80", 31" x 80", 32" x 80", 32" x 82", 32" x 96", 34" x 78", 34" x 80", 35" x 80", 36" x 78",36" x 80", 36" x 82", 36" x 84", 36" x 94", 36" x 96", 38" x 82", 40" x 80",48" x 80", 48" x 96", 60" x 80", 60" x 96", 62" x 80", 72" x 80", 72" x 96"more.


we're committed to making your life easier. Our magnetic screen door installs and uninstalls in just minutes, keeping out nature and providing a "no hands needed" and self-sealing way to get in and out of your home. Give yourself, your family, and your treasured four-legged friends the convenience of easy entry and exit and a home filled with fresh air.


The screen door with magnets as seen on TV, our magnetic screen door is stronger. We promise unmatched reliability and exceptional craftsmanship. Don't be fooled by other cheap screens or the hassles of traditional screen doors. Our durable, heavy-duty mesh screen with reinforced edges will survive the test of time. Plus it's retractable and frameless, perfect for easy storage.


How To Install:
Clean the door frame.
Stick the velcro on the screen door.
Find the right position.
Glue from the top door frame
Paste both sides
Check
 
HOW TO USE A WAX SEAL – A SIMPLE STEP-BY-STEP GUIDE
Want to learn how to create super fancy and old-fashioned wax seals? It's easy! Here's everything you need to learn how to use a wax seal.
You absolutely love wax seals, but you don't know how to make them, or what you need to do it. Fear not, wax seals are simple and we are going to take you through proper planning Ag, products, process, and perfecting to make sure your wax seals are absolute envelope show-stoppers.
HOW TO USE A WAX SEAL WITH WAX STICKS OR WAX BEADS AND A SPOON?
STEP 1: PREP
Once you light the wick on your wax stick, things will move quickly. So make sure you're ready! Get your envelope in front of you, attach your seal head to the handle, and grab your lighter.
STEP 2: LIGHT
Light your tea-light or candle.
STEP 3: MELT
Add three or four wax beads into your spoon and hold about an inch above the flame. Don't put the spoon directly in the flame because you will get a black sooty residue on the underside of the spoon, which might end up in the wax. Hold the spoon over the flame for a minute or two until the beads have all melted.
STEP 4: POUR
Pour the contents of your spoon over the lip of the envelope, getting as much onto the paper as possible. Set spoon aside (but mind that it's still hot).
STEP 5: STAMP
Check that your stamp is oriented correctly. Then push the stamp into the pool of wax, taking care to get wax excess all around the stamp.
STEP 6: REST AND REMOVE
Allow the wax to cool for 5~7 seconds or so, then gently pull the stamp away to reveal your wax seal.
DON'T FORGET TO CLEAN UP
If you want your materials to last, then you need to make sure to properly clean all of your tools. Cleaning a wax seal set can be a bit tricky, so make sure to check out how to clean a wax seal spoon.
WAX SEALS AIN'T SO HARD
This old-fashioned method of sealing envelopes might look extra fancy, but it's not hard at all to pick up. With only a few materials, you can begin sending special letters in no time. Wax seals are perfect for weddings, baby showers, Halloween parties, or plain ol' letters. You will delight your recipients when they pull your envelope out of their mailbox. Give this wax seal tutorial a try and see just how fun it can be!
Glue Gun Method
The glue-gun method is the staple of making wax seals. It gives you enough flexibility to get creative while not being overly time-consuming. For a project with the glue gun method you will need:


Wax Stamp
Sealing Wax Sticks (approx. 40 seals per 5 pack)
Low-Temperature Glue Gun (0.44" diameter)
Lunch Kit Ice pack (a zip-lock bag full of ice works as well)
Microfiber Cloth
Silicone Mat (typically found in baking/cooking aisles)
Process, step by step to beautiful wax seals
Now comes the fun part, actually making your wax seals. We recommend gathering all your supplies before you start, and clearing your workspace as sealing can be messy. To get started, chill your wax stamp on ice, and make sure you have a silicone mat to place your spoon or sealing wax gun down on.

Heat Up
Pour
Press
Wipe the head of your wax stamp off with a microfiber cloth or your palm, then press into sealing wax. Leave for 5 - 10 seconds then gently peel your stamp away. If it sticks, allow more time to cool. If there is a lot of sticking, try letting your sealing wax cool a bit before stamping.