"I love cycling, but I always get saddle sore after like half an hour cycling! My family goes on cycling trips on the weekends and it is so annoying that I have to get off my bike to rest my bottom every 30 minutes…I got the Aircush about 2 months ago and went on 3 cycling trips with it, I gotta say it is a lifesaver for me! Now I can cycle for 2-3 hrs without feeling saddle sore. I just ordered some more for my two kids and husband, they can't wait to try them out!"
⭐️⭐️⭐️⭐️⭐️ — Jasmine P. CA.
Commute with comfort!
Since 2020, more and more commuters choose to ride to work and home. Traditional bike saddles are hard, trap heat in summer and no shock absorptions at all. Too hard cushions can be harmful to your reproductive organs, and long-time/frequent use will make you feel uncomfortable. In the end, you may want to give up this eco-friendly transportation.
We want to limit carbon footprints by helping people keep riding bicycles comfortably. Aircush is using air cushion with moderate flexibility that can effectively alleviate friction to ensure a comfortable long riding.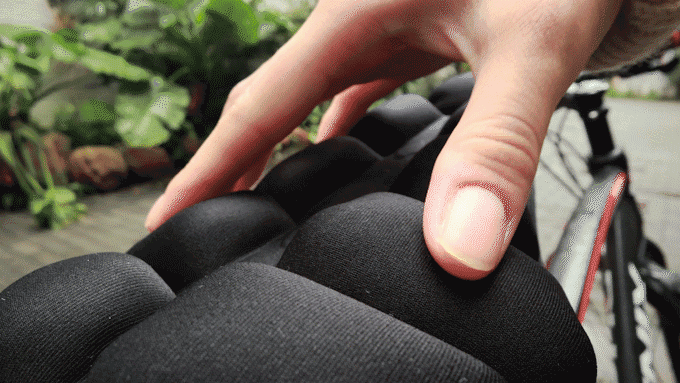 How to choose?
Aircush is designed to fit 99% of the bikes in the market including e-bikes using traditional saddles. You can simply choose sport or city according to the shape of your saddle. You can also quickly measure your bike saddle to be sure about the size.
Sport (11.22 x 7.28In or 28.5 x 18.5cm)
City (10.43 x 9.45In or 26.5 x 24cm)
When you do not have a PayPal account and want to pay with a credit card, you can follow this process:
Step 1. At the last step of checkout, select PayPal as the payment method for the complete order.
Step 2. On the PayPal payment page that pops up, find the Pay with Credit or Debit Card button and click to enter the next step.
Step 3. Then you will see the credit card payment page, after completing the requirements, see the bottom of the page, click Pay Now to complete the payment.