'I am getting compliments everywhere I go!'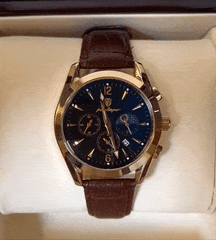 How does it look on you?
The Aventadori is versatile enough for any occasion. This beauty has been given an average rating of 9 out of 10 from our customers, who love how it goes with everything they have in their closets.
Features:
☑️Quartz Movement
☑️Stainless Steel Case
☑️Luminous Function
☑️Genuine Leather Strap
Specifications:
(The small dials are for decoration only)
When you do not have a PayPal account and want to pay with a credit card, you can follow this process:
Step 1. At the last step of checkout, select PayPal as the payment method for the complete order.
Step 2. On the PayPal payment page that pops up, find the Pay with Credit or Debit Card button and click to enter the next step.
Step 3. Then you will see the credit card payment page, after completing the requirements, see the bottom of the page, click Pay Now to complete the payment.